Saturday, February 20, 2010
Patron saint of troublemakers
James Martin SJ, August 07, 2009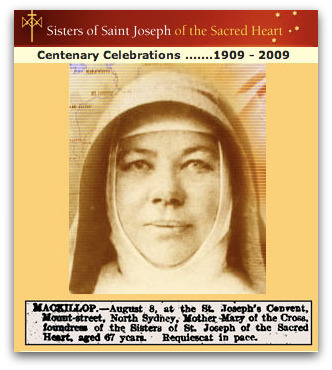 The headlines read: Pope hopes excommunicated nun might become saint.
Yes, you read that correctly.
Mother Mary MacKillop, the foundress of the Australian-based Sisters of St Joseph of the Sacred Heart, was, in 1871, officially excommunicated by her local bishop, on the grounds that 'she had incited the sisters to disobedience and defiance'.
That same church leader, Bishop Sheil, had earlier invited her to work in Adelaide, where she and her sisters would eventually set up schools, a women's shelter and an orphanage, among their many works. But MacKillop's independent spirit was a threat to Bishop Sheil, who had her booted out of the Church.
Last month, Prime Minister Kevin Rudd spoke with Pope Benedict XVI about MacKillop's possible canonisation. Just last year, the pope visited MacKillop's tomb in Sydney during his visit to Australia for World Youth Day. Prime Minister Rudd said that the visit 'left a deep impression on the Holy Father'.
In April of this year, in an extraordinary gesture, Bishop's Sheil's successor, the current archbishop of Adelaide, Philip Wilson, made a public apology to the Sisters for their foundress's excommunication. Standing before her statue, he said that he was 'profoundly ashamed of the Bishop's actions in driving the Sisters out onto the streets'. . . . 
MacKillop was beatified in 1995. From the sounds of Prime Minister's Rudd's comments, and the implied message of the pope's visit to her tomb, she will soon become a saint — perhaps the patron saint of troublemakers.
[Read the entire piece here.]
[HT:  Greg Kalscheur, SJ.]
https://mirrorofjustice.blogs.com/mirrorofjustice/2010/02/patron-saint-of-troublemakers--------------james-martin-august-07-2009the-headlines-read-pope-hopes-excommunicated-nun-migh.html